This week Sony announced the Australian availability of two models of their eReader, the pocket sized Reader Pocket Edition ($229), and the not-so-pocket sized Reader Touch Edition ($299).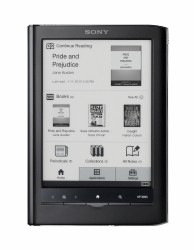 Available in September 2010, both devices are both Mac and PC compatible, and support multiple file formats. Apart from the obvious size differences, the Touch edition also sports a SD/MS card slot, allowing the support of up to an additional 32GB of storage beyond the default installed 2GB.
Being eInk devices, the battery life between charges is specified as two weeks.