When you log onto Facebook or Twitter, you're logging into the world of social networking, an area that's been growing for the past few years and is only set to get bigger. Most people log in, check out their friends, and have fun tracking people.
But what about people who are in hospital? Where's their way to communicate with the world beyond their bedside?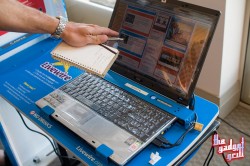 This week, we're talking to the director of a new program designed to get kids who are sick in hospital out into their own social network to make friends who they can relate to. Livewire's Omar Khalifa joins us as we talk about this new program and how exciting it is.
Plus we talk about Telstra, everyone's not-so-favourite Internet censorship plan, and a way for you to get more juice out of AMD's current Tri-core chips!
And if you were curious to see just how the host of The Gadget Grill would embarrass himself this week, throw in an electronic instrument and you might just begin to understand.
All that and more on this week's Gadget Grill… you know… because we love you and all. 🙂
No… it's not just talk. We play music on our radio show. If you missed any of the tracks from tonight's show, you can find out what they were below…
Poe – Hey Pretty (from "Haunted")
Bon Iver – Brackett, WI (from "Dark Was The Night")
Boy Kill Boy – Be Somebody (from "Stars And The Sea")
Flyleaf – Supernatural (from "Much Like Falling")
The Hollies – Long Cool Woman In A Black Dress (from "Distant Light")
Next week, we're looking at VoIP. Does that acronym not mean much to you? Next week, we'll dissect Voice-over IP as well as tell you how it'll save you money if you're not using it already.
Note for this week's podcast:
Apologies to our listeners for the quality of this week's recording. We do know about the cross-talk that you can hear (the low-volume talking that appears underneath everything) and we're working hard to get rid of it. Sadly, our main recording device used each week was having technical difficulties this week so we had to go with this one, our backup. We've repaired what we could and we apologise. We should have the good audio recording device working back to full capacity next week, folks!

Podcast: Play in new window | Download (16.4MB)
Subscribe: RSS