In case we hadn't told you yet – and it's very possible that we hadn't as it does get a bit hot in this here kitchen of ours – you can win a copy of Microsoft Office 2008 for Mac OS X by not doing a whole lot other than writing a bunch of stuff into a form and hitting submit!
The good people at Microsoft have donated a copy of Office for the Mac and now our entire station is offering it to one lucky listener.
All you have to do to go in the draw is hit this link and tell the form what your favourite show is as well as a slogan for that show.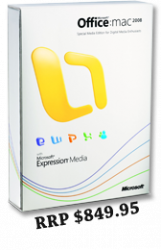 So if you really happen to like our show – The Gadget Grill – simply type that in as well as a slogan you think we should use on the air.
Here are some ideas for slogans you probably shouldn't use:
The Gadget Grill – blowing stuff up daily!
The technology show that we're not sure  is safe for vegetarians!
…and if The Gadget Grill isn't your favourite show on 2RDJ, there's plenty of others to choose from.