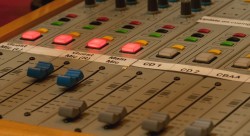 Tonight's show was skippered, for the very first time, by maitre d' Geoff Quattromani. And a very fine skipper was he – with apologies to both Gilbert and Sullivan. Geoff steered the Good Ship Gadget Grill straight and true. Until I managed to dismast it about 30 seconds into the broadcast.
But in all seriousness, after stopping for a while on Tech News Island, we called in on (and hopefully highlighted) some aspects of Nespresso's marketing strategies, where we believe that they might not have fully grasped the concept of what retail sales are all about.
We then take a look at Livescribe's newest pens, before finally settling down to a couple of useless gadgets which seem to be, perhaps, not really as useless as they might at first seem.
Ok, yes, they are totally useless.